07

Jan 2014
The Benefits Of Steam Cleaning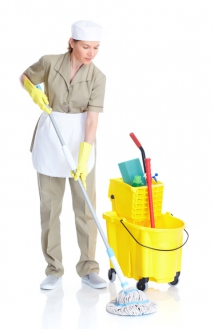 Steam cleaning is an extremely efficient way of killing bacteria and as more people learn about the benefits of using nothing but steam to clean their homes with, the more the demand for steam cleaners goes up. It may seem a very peculiar idea as you are technically only relying on water not only to make your home dazzle, but also to kill all of the harmful bacteria. It has now been proven however, that as well as being a much more convenient way of cleaning, it is much more effective than using common household chemical products. For carpets in particular, it is very easy for dirt to cling to the fibres and with a normal vacuum, only the large visible objects are picked up and the smaller pieces are left deep within the material. Because dirt clings to fibres, steam has the ability to remove the micro bacteria from deep within the carpet by eliminating the actual bond between them.
Benefits:
• It's cheaper and faster. Steam cleaners only need filling with tap water and once it's plugged in, it's ready to go after only a few seconds. This saves a lot of time and hassle as you just fill the water up to the level marked, as opposed to the old bucket and mop where you had to measure a ratio of floor cleaner to water and having to keep going to clean and wring out the mop. Steam cleaners are pretty easy on your wallet too as you can cut down on a lot of cleaning products without compromising the quality of cleanliness and most of the time actually improving it. The majority of them come with a cleaning pad that you can just throw in the wash and re-use it again and again so there's no need to keep buying new ones when they get a bit dirty.
• It's safer. By using steam, you eliminate toxic chemicals and residue left on surfaces from different cleaning agents. Because of the heat of the steam, you still need to be careful with what you're doing, but there is no need to protect your skin from harsh chemicals. If you have any babies, children or pets around, it is a very safe method of cleaning. Babies and children will touch everything they can and with a steam cleaner, you can be assured that anything they do manage to get a hold of will be of a very high level of cleanliness. It can also deal with pets bringing in all sorts of bacteria from outside and rubbing it all over your house.
• It's environmentally friendly. Because no chemicals are involved, there are no excess toxins being thrown away down the sink or outside as well as no need for factories to make harmful cleaning chemicals.
• It's very versatile. Nowadays you can get steam cleaners that can clean practically anything. Not only is your laminate or tiled floor a quick easy clean, but you can steam clean carpets, curtains, baths, showers, sinks and practically anything else in your home.
There are many attachments to go with a steam cleaner as well as a number of different models specialising in different cleaning abilities. The sizes of them vary so if you have a smaller space to clean, you can save a bit by buying one with a smaller tank and vice versa if you have a larger area to tackle. Steam cleaners are very reliable pieces of equipment and are very good at tackling any dirt problem at home so you can get a professional clean without the professional price.